I know I've been pretty bad with keeping up this blog (what else is new), but I wanted to stop by to let all of you who continue to subscribe/read this know that I'm still here. I have kind of slipped with my reading a bit, but thank God for audiobooks.
I'd like to try to review a few books in the coming days and weeks, so stay tuned for those. In the meantime, here are my top picks from this year.
I realized right after I wrote this entire post that this is this coming Tuesday's Top Ten Tuesday topic, so I'll link to it then as well. Sorry I'm ahead of the game on this one!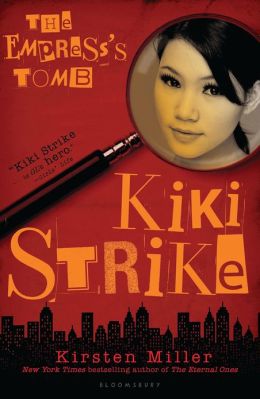 1. The
Kiki Strike
series by Kirsten Miller. I was lucky enough to be chosen as a blogger to review
The Darkness Dwellers
, the third in the series, and the publisher was kind enough to send me the first two so I could read them all and catch up. I was a bit cowed by the amount of pages I had to read before the release date, but I needn't have worried; I flew through these. I hope there will be a fourth at some point.
2. See You at Harry's by Jo Knowles. I'm ashamed to say this is my first book I've read by Knowles, who I've met and is the sweetest person ever. This one got a rare 5-star review from me on GoodReads. It was that good. I listened to the audio, which was kindly sent to me by Candlewick Press, and which I immediately added to my library's audio collection. Heartbreaking but lovely, Kate Rudd's performance is spectacular and I'm so glad she won an Odyssey Award last year for The Fault in Our Stars (which I haven't listened to). This one is a winner.
3. Being Henry David by Cal Armistead. After requesting this through NetGalley, I was surprised and then felt stupid when I realized I had actually worked with the author at B&N years ago, and knew her daughter from the store as well. This was especially fun for me to read because of this, and because a good portion of the novel takes place in Concord, Massachusetts, which is the next town over from where I work. Cal was kind enough to make a visit to my library for a talk and signing. Thanks, Cal!
4. Where'd You Go, Bernadette? by Maria Semple. I read this because it won an Alex Award, and boy am I glad I did. What a fun book! It's written in documents, emails, and first-person narration from Bernadette's teen daughter, Bea. I recommend this one to a lot of people. You should read it!
5. Aristotle and Dante Discover the Secrets of the Universe by Benjamin Alire Sáenz. This got another 5-star review from me. Just a wonderful, quiet story that made me feel good. It deserved every single award it received.
6. The Hero's Guide to Saving Your Kingdom by Christopher Healy. This book is probably the funniest book I've read all year. Love the fairy tale spoofs and the humor of this. The sequel was just as good. I can't wait for the third installment!
7. The Skulduggery Pleasant series by Derek Landy. Am I ever glad I decided to listen to these audiobooks. Great humor and action, and great world-building with great characters. These are probably some of the best audiobooks I've had the pleasure of listening to. I'm currently listening to #3, and I hope I'll be able to find the rest of the series on audio somewhere (they were originally published in the U.K. and aren't as widely available in the states).
8. The Whale Rider by Witi Ihimaera. A beautiful little gem of a novel. This is a great crossover book too; it has both teen and adult appeal.
9. Carter Finally Gets It by Brent Crawford. I'm not sure this would have been so fantastic if I hadn't listened to Nick Podehl's narration, but I absolutely loved this. Extremely funny and entirely entertaining.
10. Ready Player One by Ernest Cline. The only reason this is on the list is Wil Wheaton. His narration really made this for me. I tried to read it when it came out, but I just couldn't get past the sheer amount of '80s-ness and the absolute cynicism of the narrator. I was able to get through all of the exposition (there was a lot) with Wheaton telling me the story. And when it got going, boy did it get going.
I know the year isn't quite over, but I doubt the few books I'll be able to get in before January 1st will top these. I'll let you know if I'm wrong, though.
Which books were your favorites from this year?